When you choose a tourist guide (in Matera or wherever), please check that he or she is a
licensed guide
.
How can you check that?
Every guide is obliged to show an official badge like the one in the following picture, with the phrase
"Guida Turistica"
on it (please note that this badge is equivalent to the British "Blue badge"):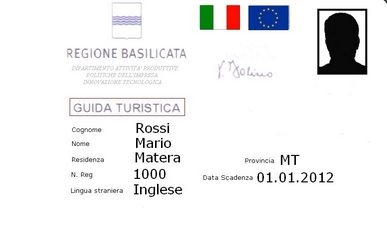 Any badge different from the one showed in this picture is
not valid
in the Basilicata region and so the holder
is not a licensed guide
.
Please do not trust anyone who stops you in the street to sell a guided tour or any kind of ticket
*
: they are scammers so, if they try to fool you, please call the local police dialing the number (+39)08352671 (I cannot guarantee the policeman answering the phone call will be able to speak English, but you can give it a try).
To hire a licensed guide
, we suggest
to contact Guide Matera
or to find a specialized travel agency, but
please avoid street-scammers
.
*
Please note that if you
do not
want to visit the "Sassi di Matera" with a licensed guide, you can visit it by yourself and there is
no
ticket to pay for the entrance: if you like, you can go to the cave-dwelling or the stone-cut churches situated in the Sassi and buy the ticket at the entrance (there's a box office) but
no one can ask you to pay a ticket to visit the Sassi
.